When I was a kid I was an avid collector of band tee shirts. Whenever I went to a new festival or gig, I'd add another to my collection. This was back in the days when women weren't supposed to be into 'serious' music, and it was often impossible to get something in my size - I ended up with a lot of oversized shirts! But it was a great way to remember past events, and signal to fellow enthusiasts.
When it comes to sex work, I feel even more strongly about showing my true colours. Buying - and wearing - sex-worker-produced merchandise is a great way to support the tribe.
There are so many options, too! Whether you're interested in shirts and badges or homewares and artwork, buying from fellow workers helps support our community financially, especially in rough times when business is slow. So, whether you'd like to encourage a provider's artistic endeavours or champion for our rights, here's a fun selection of merch from workers and peer organisations.
This blog was produced with the assistance of Miss Tallula, who has already done a lot of research on sw-owned-and-produced items.
The SWOPShop, Australia, domestic shipping only
Sex Workers Outreach Project (SWOP)  is Australia's largest and longest established community-based peer education sex worker organisation. Their mission is to provide sex workers in New South Wales with the same access to health, safety, human rights, and workplace protections as all other Australian workers.
The 'SWOP Shop' sells this coveted classic - the shirt you'll see at any and every sex worker rights rally across Australia, with the signature red umbrella and the 'Someone I love is a sex worker' slogan. If you're out and proud, or you want to stick up for the workers in your life, this is my number-one recommendation.
Old Pros Inc, USA, ships internationally
The Old Pro Project aims to change the stories that are told about sex workers by sharing stories from history. They say, "We believe that by reclaiming our place in history, we can claim our human rights for generations past, present, and future."
The team does a lot of advocacy and also puts out a regular podcast. Their shop sells tee shirts, totes and stickers.
My favourite of their merch is the 'I'm an old pro' print tee. It's another great option for telling people you're a sex worker wthout telling them you're a sex worker! As someone who has been in the biz for twelve years now, I sometimes do feel a bit like an ageing courtesan, and this shirt is perfect.
Exotic Cancer, Australia, ships internationally
Exotic Cancer is a well-known digital artist with worldwide reach, drawing from her experiences in stripping to paint a dystopian, hyper-saturated picture of humanity and sexuality. Her work has found worldwide fame via instagram and other social platforms, and her artwork, books, apparel and accessories are gorgeous.
Her newest project is a soon-to-be-released tarot deck. The collection includes the full deck, prints, stickers and even a colouring book. In case you're new to it, the deck also comes with  beginner-friendly instructions.
The deck  is available for preorder now, shipping in May, 2022.
Looking for that perfect decoration for your workspace? Australian escort Tammith Mahogany hand-makes custom cross stitch art under the name 'Sorry Mum Cross Stitch; and her work is  both comforting and entertaining. Designs range from pretty patterns and illustrations, to foul-mouthed messages that would make my grandmother blush.
She takes custom requests, but my favourite item of hers bears the message 'the soap isn't just for decoration'. I'm already considering whether it might help my clients to remember their personal hygiene, once I have the chance to decorate my own incall!
Sorry Mum Cross Stitch takes orders via their account on Twitter.
Pisces Disco, USA, ships internationally
Pisces Disco is a sex-worker owned store with a difference. Their apparel and homewares products feature cute bunnies and bears in baby blue, pink and yellow, chanting sex worker rights slogans and waving transgender pride flags.
My pick is the comfy 'I'm an accountant' hoodie. How do you say you're a sex worker without saying you're a sex worker? If you like staying warm while being 'out' to those who know their memes, this is a perfect fit.
(Not familiar with the meme? Here's a run-down.)
Jacq the Stripper, Australia, ships internationally
Artist and erotic dancer Jacq the stripper is a worldwide sensation. But did you know that she also has a merch line?  She sells gorgeous watercolours, hats, and of course her funny and insightful books about life as a dancer.
The fine art prints would make a great addition to anyone's incal spacel, but my favourite piece of swag is the 'Bitch, you got this' coffee mug, perfect for a little extra motivation on those busy days in the 'office'.
Madi G, Australia, domestic shipping only
Aussie sex worker Madi G is a scent virtuoso, producing a range of candles, body products and bath accesories. A huge range of options means you can choose the vibe that's right for your next session, or curate a specific aroma for your workspace.
She also sells a few things specifically for the guys too, such as beard oil and 'tradie scrub'. Madi is transparent about what goes into each and every product - there are no phthalates or parabens and no animal products.
My personal pick is the 'chocolate fudge' body butter because I'm such a chocolate enthusiast.
Decolonise sex work, Australia, ships internationally
Decolonise Sex Work describes themselves as 'A Blak Sex Work Grassroots Collective working to destigmatise and decolonise Blak sex work in so called "Australia".'
Their merch - tee shirts, prints, totes, mugs and stickers - say what needs to be said, positioning Black Live Matter as a sex work issue and reminding us that nobody has a right to police the bodies of people of colour, regardless of what they do for a living.
My favourite item is the 'Decolonise sex work' sticker - gorgeous colours and an important message that can - and should - be slapped on anything.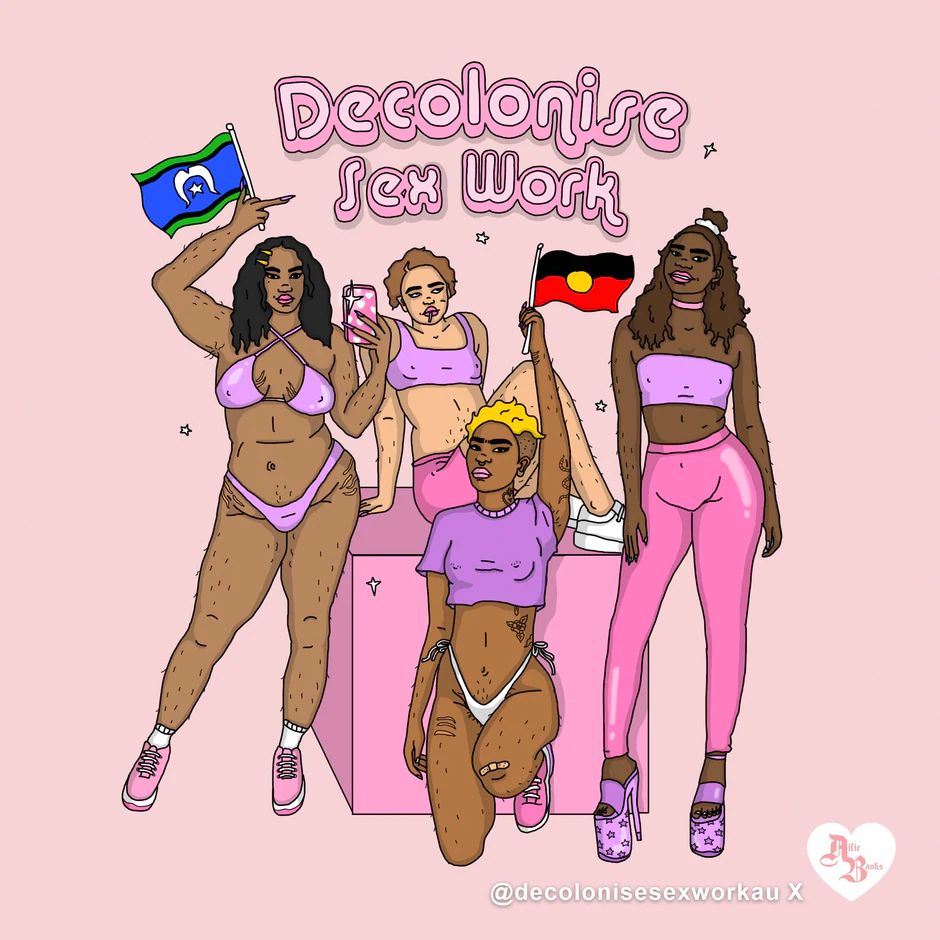 Networthy, USA, ships internationally
Networthy is a fashion label that centers unapologetically on sex work. The brand was created by Melrose Michaels, an industry pro of over 12 years' experience. Her designs draw from her life as a worker and our collective experience of stigma: "I wanted to create clothing that felt like armor and could set the tone for how others interacted with me."
Networthy donates a percentage of its sales to Pineapple Support, providing free or low cost therapy to sex workers and adult performers.
My favourite of her items is the oversized tee shirt dress. The print is cool as fuck: 'Got clout, then flexed, snapped nudes, got checks.' As someone who prefers less figure-hugging and more gender-neutral attire, this hip statement piece sends the right message and ticks all my boxes.
Be a Bimbo, USA, ships internationally
What if you're more about hyper-femme? Let's switch to a totally different style, with this collection of super-cute, sex-worker-chic merch from Be a Bimbo.
The brand's founder, adult performer Alicia Amira, says, "I've always been fascinated with the appearance of ultra-feminine women in control of their own sexual power." Her loungewear, lingerie, tops and accessories harness the 'barbie' aesthetic for maximum effect. There's a lot of bling, and a lot of attitude.
The 'plastic' sports bra is a celebration of everyone I ever know who's had a great boob job. Although pink isn't my style, it would look amazing on pretty much all my friends with big cleavage, and I hope they read this!
Piper Quinn, Australia, ships internationally
Australian escort Piper Quinn is a well-established escort and adult content producer from Sydney, Australia.
In addition to her regular work, she also sells a very sexy tee shirt. The figure-hugging cut emphasises the slogan 'fund whores not laws'. If you really want to get the message out there, wear this shirt! Wherever you go, it's guaranteed to start some useful conversations about decrim.



---