Given the new wave of online and offline violence against sex workers caused by misinformation and false narratives about the sex industry, this section of the blog is very important to us. We explore the lives of sex workers from all walks of life, to help you understand the intricacies of the sex industry and how you can help reduce violence against sex workers. This week we chat to Chicago escort Ada Halley about how they got started in the industry, why sex work is sometimes the best form of employment for a trans person and her advice for newbies.
Tell us your story, how did you get into the industry and what has your journey looked like thus far?
I guess my story truly started when I came out as a trans woman at 20. I worked in restaurants my whole life up until that point. And initially when I was transitioning in the public eye, it was hard to find a workplace that respected me. Lots of workplace harassment and rude questions about my body. I ended up discovering sex work through two of my other trans friends who had endured similar things, and they showed me the ropes and told me about the job. I ended up making an Onlyfans, and I did escort work part time for a few months. But In a small city it's hard to make that work for very long. I was inactive for awhile and got back into restaurants for another year after that.
2 years later I got sober and moved to Chicago, and that's when I learned about tryst, and I met a larger community of trans sex workers, who were very supportive of me and my journey. The money and the quality of the clients in Chicago was infinitely better. I've been doing sex work as my main job for about a year now, and I'm very happy with it.
What are some of your hobbies and interests outside of work?
I have lots of hobbies outside of work! As a sober woman I'm constantly thinking of new things to fill my time. I love cycling, cooking, watching anime and horror movies, and I play my own music as well! I'm currently very into synthesizers and drum machines and making my own music with analog gear.
Why do you think it is important for sex work to be decriminalized and how do you think this would change the way you work?
I think that decriminalized sex work is super important! For people who do survival sex work especially. It's so unfair for them to get arrested and harassed for just tying to pay bills. They don't call it the oldest profession for nothing. Why it's illegal, I'll never understand.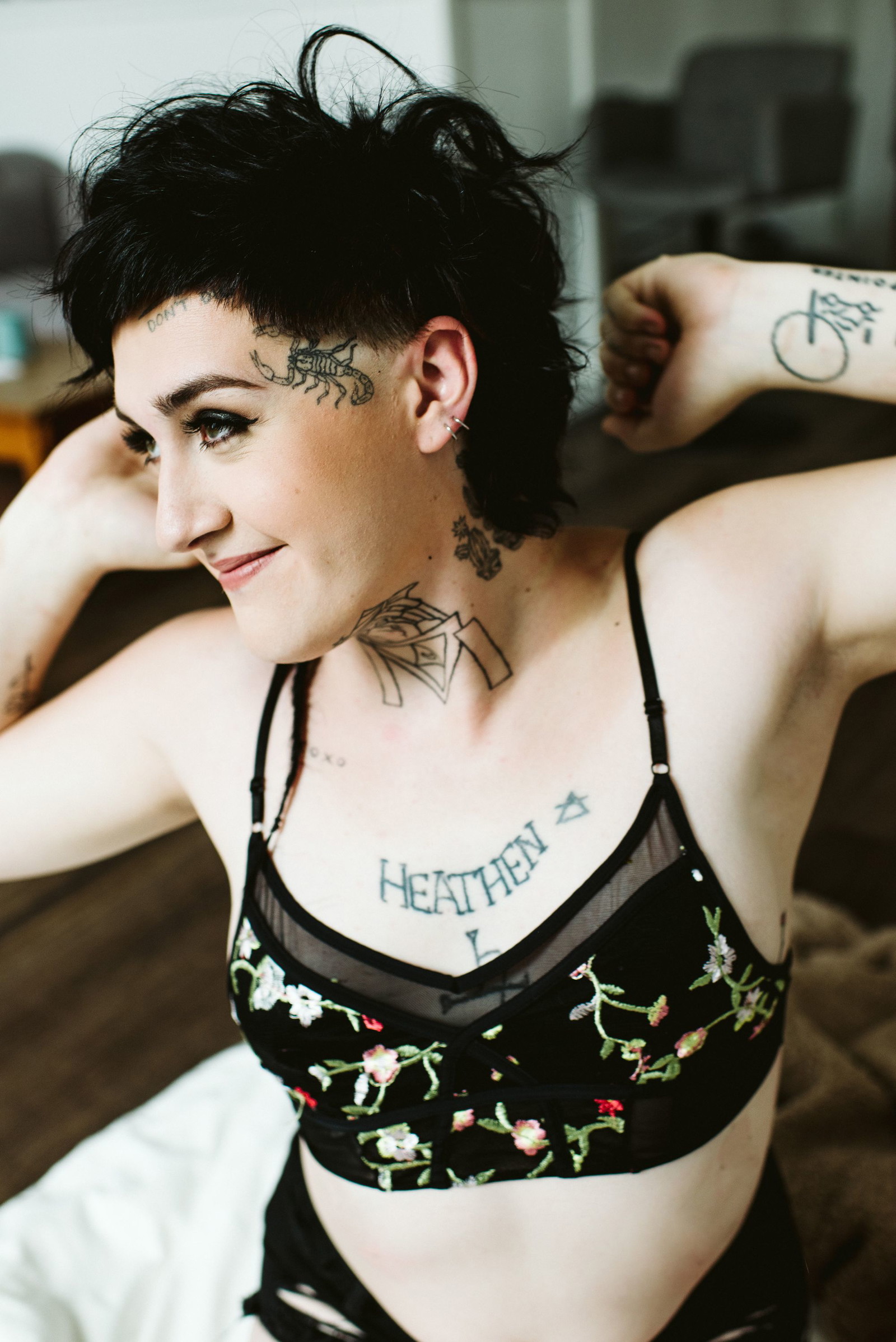 Is there a book, tv show or movie that has had a major impact on your life? What was it and what did it teach you?
If I had to pick a TV show that had a big impact on my life I would say it would probably be Euphoria. As a trans woman who came out later in life it was very powerful to see Jules live out her teens as a trans woman, something I ache for. The shows depiction of addiction is also very powerful, and as a sober person it's nice to see the struggle of addiction portrayed so truthfully on screen.
What issues do you currently see/experience within the sex industry as a trans worker and what changes would you like to see to better support the trans sex working community?
Issues I see in the trans sex work community specifically is just lack of support. We're often pretty isolated, and as such we can get bad clients. Police also know that a bunch of us are forced into sex work because other places won't hire us, which makes us an easy target for stings and such. Overall I'd just like the general public to support sex workers more, and have community infrastructure in place to help and protect all sex workers.
What is something you're currently excited about?
I'm currently excited for the COVID vaccine to be distributed. I hope once we all have some immunity business will pick back up, and people will feel safer seeing providers. Who knows when that'll happen, but it's a nice thought.
What are some benefits and draw backs of the sex industry?
The benefits of sex work are the flexible schedule, the ability to set your own rates, and the autonomy and empowerment it can provide. The drawbacks are the stigma and social miasma surround our rights as workers and people, as well as the inconsistency of our pay.
What are your top three pieces of advice for trans workers just starting out?
Top three pieces of advice for new sex workers would be: SCREEN YOUR CLIENTS. Make sure you get some sort of ID and they seem like good people. Give it time, you just need to build a base of solid regulars which can take a few months, and you'll have steady income then. And lastly, diversify! Escort work is great, but there's good money to be made doing adult films as well. Start an onlyfans, a manyvids, get multiple income streams going.
What kind of music are you currently listening to?
I love all kinds of music, but lately I've been listening to DIIV a lot. They're a kind of shoegaze/indie rock band and I love them. The guitar work is so good!
What would your dream date look like?
My dream date would be going out for some NA cocktails and a movie! maybe getting some edibles from a local dispensary and listening to some good music.
Short from.
My favorite scent is: Grapefruit probably!
My favorite restaurant is: Bang Bang pies is for sure my fave restaurant.
If you were to buy me a drink at a bar, you should buy me: If you were gonna be me a drink, get me a soda water with bitters and lime.
My favorite thing to be gifted is: My favorite gifts are cash
Want to meet Chicago escort Ada Halley in the flesh? Head over to her Tryst profile! 👇👇👇
---