Scarlet Blue and Tryst.link offer similar products, but scratch the surface of either platform and some significant, and perhaps critical, differences are exposed. Scarlet Blue has been around for a good while longer than Tryst.link, but they certainly appear similar in some aspects. They are both entrenched in the sex industry offering advertising services to sex workers. They're both ostensibly Australian but service most places in the world. Across four key areas, this article will look at the key differences between the two platforms.
[Skip to find verified escorts in Melbourne, Sydney, Brisbane, Perth or Hong Kong]
Customer Service
There has been rather a lot of drama regarding Scarlet Blue's customer service. We believe Scarlet Blue was acquired by an entity linked to Eros (A major US based escort directory which was raided by the Department of Homeland Security) in late 2019. Since that takeover there has been a noticeable decline in the quality of customer service. There have now been a multitude of reports of broken features on the site that are going unnoticed by the team including reports of them ignoring sex worker's enquires altogether.
Since the take over, the Scarlet Blue team seems to have changed or been replaced entirely. There are reports that their support crew has been severely downsized and outsourced to another country. Occasionally they have been noticeably rude and condescending. The takeover and subsequent breakdown in communication has been documented extensively by Australian sex workers across social media platforms like Twitter.  One worker reporting that she has had to reach out every time she wanted to edit her profile because of glitches on SB. There has also been a number of customer service glitches since the takeover where workers have received emails not addressed to them and strange enquiries.
By contrast, all of Tryst's support staff are located in Australia. All members of their support team are involved either in the sex industry or the LGBTIQA+ movement. The team is small and a tight nit group which gives us the ability to work with the community to fix bugs quickly and efficiently and answer any questions workers may have. Tryst actively involves itself in the movements that uplift sex workers and the vulnerable communties that are entrenched in the sex industry.
Community Involvement
Scarlet Blue had previously been run by an ex-sex worker and had decent community involvement. A significant tenet of Scarlet Blue that drew a lot of praise was that features of the platform were developed with sex workers in mind. The values that upheld those features have seemingly dissipated.
Scarlet Blue's public interaction has always been minimal but since the takeover, this has dropped to nothing. There have been no donations to sex worker organisations or advocates that we are aware of. It would appear that they have no future intention of being active within the community or helping the workers upon whose business their platform depends. They have been questioned over and over about their business practices on Twitter but no progress has been made.
Tryst, very much on the other had, is run by sex workers. The founders of Tryst are Assembly Four, the people behind Switter. They are public facing and have constant significant communication with the sex work community. They have made multiple significant donations to sex worker advocacy organisations. They encourage community feedback, and actively work on features that are requested by the community. Assembly Four have participated at technology conferences such as Ruby Conf in Melbourne, Australia and the United Nations Internet Governance Forum in Berlin, Germany. Tryst.link has a community focused blog that is being built from the ground up with the community in mind. Tryst and Assembly Four are active on Twitter and try to engage with people as much as possible online. Assembly Four know the value of community engagement.
Features of Service
After the sale of Scarlet Blue, feature sets that workers value, such as website hosting, have been eliminated from the platform. They also allow agencies on their platform which have lead to credible rumours of baiting and switching clients. After the take over, Scarlet Blue updated their terms and conditions to say that workers' data may be shared with the US government where sex work is prosecutable. Scarlett Blue also doesn't currently have an ABN so workers can't claim their ad costs on their tax return.
To add to the burn, Scarlet Blue remains quite a glitchy platform at present for many workers. Workers everywhere have found innumerable flaws with some workers unable to make basic changes to their profile. With the quality of support at Scarlet Blue having degraded, there has been no help for workers having issues.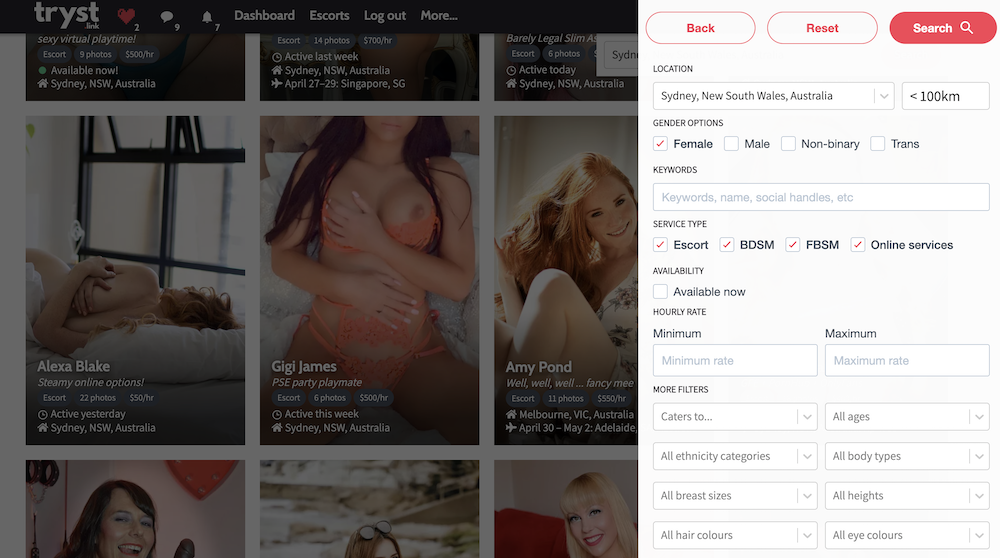 Tryst, on the other hand, has always been focused on creating positive, useful features that sex workers need from an advertising platform. Clients can search by price, body type, tattoo preference, location and whether the worker offers online content. All profiles on Tryst are verified, allowing a larger degree of security for discerning clients. Clients are also able to message workers directly from the platform which helps workers maintain a level of discretion if they do not wish to share thier email or phone number publicly. Workers also have access to detailed analytics to help them with their marketing. Tryst only works with organisations that takes Sex Worker rights and the safety of their information seriously. Tryst is substantially faster than Scarlet Blue, and is frankly better designed in this writers opinion after using both sites.
Price
Scarlet Blue is one of the most expensive sites to advertise on in Australia. Since the sale, their prices have again increased with the expansion of packages. They do not offer any free profiles and their payment options are extremely limited - payment must be made via bank transfer at the moment. None of these issues are present on Tryst. Tryst is proud of the free options it provides, and the paid premium memberships are some of the most affordable online. Payments can be made on Tryst via Bitcoin, credit card, prepaid cards and gifted memberships from clients.
Conclusion
From the above you can draw the conclusions you wish, but Tryst is always building out new features and attempting to keep sex workers interests in mind during development.
---