The sex industry is awash in potential advertising spaces for sex workers, but international governments are not on our side, which creates complex problems for workers seeking to grow their business online. The choice where and how to advertise is absolutely critical to remaining safe, secure and frankly not being ripped off. Tryst must be compared to other services to ensure that workers can be confident in the decision to become a Tryst member.
Escorts and Babes is one of the largest advertising sites in Australia. It offers workers the opportunity to advertise themselves, just as is the case with Tyst; However, there are major differences in the quality and quantity of services that each platform offers. There are some deep divides across such a customer service, community involvement, price and the features each platform offers.
[Skip to find verified escorts in Melbourne, Sydney, Brisbane, Perth or Hong Kong]
Customer Service
Perhaps the one area in which Escorts and Babes are impeachably decent is customer service. As far as we are aware, Escorts and Babes' customer support is actually quite good. They respond to support queries quickly and have on-call support staff that you can access via phone. Similarly, Tryst has a robust support program. All of Tryst's support staff, as well as the founders of the company, are located in Australia. All members of their support team are involved either in the sex industry or the LGBTIQA+ movement. Tryst and the founders are responsive and active on both the platform and on Twitter; it usually takes 1-3 business days for a member of the support team to respond to an enquiry. Tryst also has priority support for premium and standard members.
Community Involvement
Escorts and Babes have no recent history of activity in the advocacy space. As far as an outsider can tell, Escorts and Babes employs no sex workers or has had any involved in the development or running of their site. None of the staff or founders at Escorts and Babes are public facing or have publicly available social media activity. This means it is difficult for the community to hold them accountable for decisions made on the platform which impact the way in which they work. Escorts and Babes does have its own Twitter account but they do not promote workers' advertisements for free. Alarmingly, I actually found a number of instances of slurs against marginalised communities across the site, see below for reference.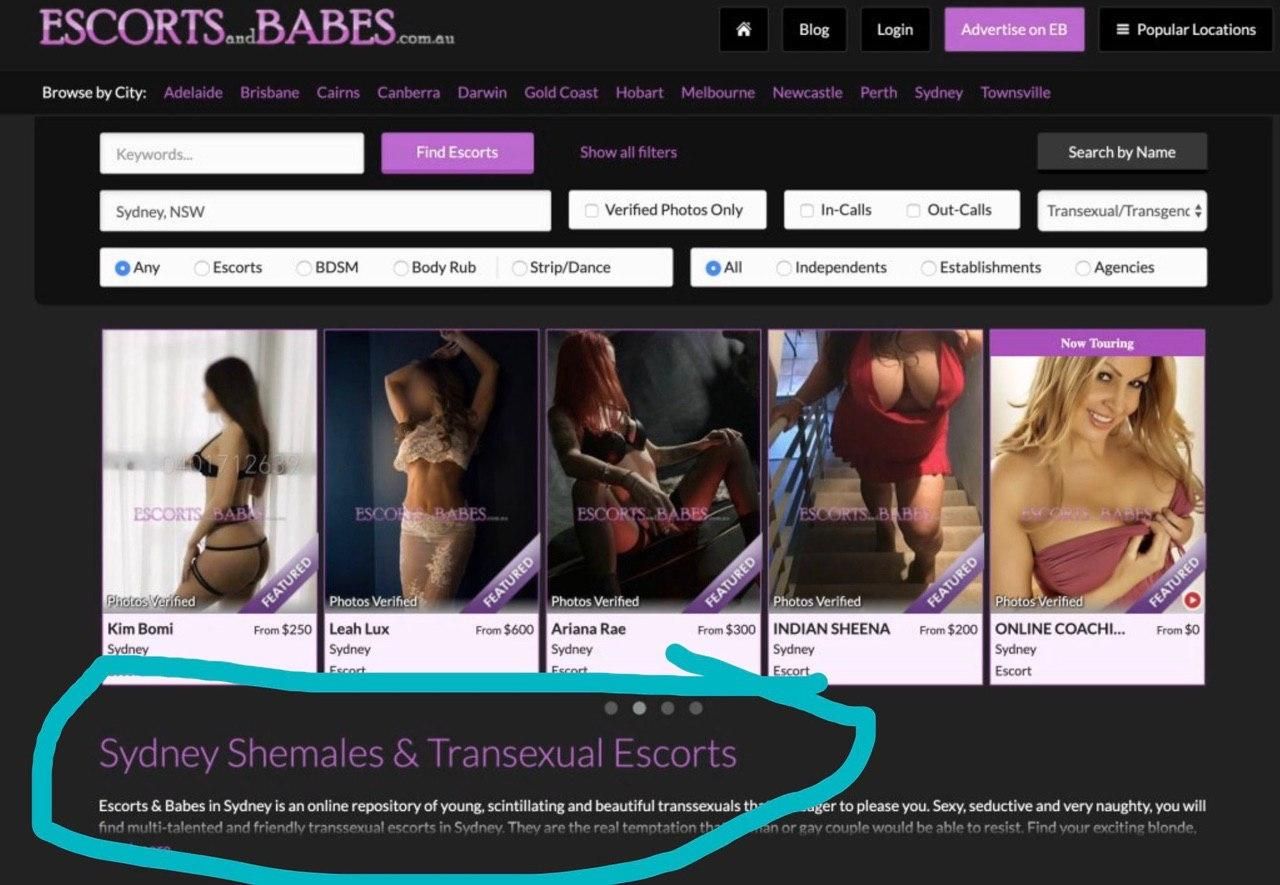 Tryst, on the other hand, is run by sex workers with public facing founders, who are also the people who run Assembly Four. Tryst frequently donates to sex worker organisations and also works with sex worker organisations to run online security workshops; security is a fundamental part of the sex work community so it is fundamental to Tryst. Tryst's founders have participated in international conferences on internet governance and security to promote decriminalisation of sex work and fight for the rights of workers both on and offline. Tryst encourages community feedback so development always has sex workers' interests in mind. Tryst doesn't use slurs on the platform and actively builds features that help marginalised people wherever possible. The gender identities of workers is taken especially seriously and this is reflected in the nuance of the gender disclosure section of Tryst. Tryst also has a sex worker blog where workers are able to submit articles.
Features
Escorts and Babes have not updated their UI for a very long time. Their features are outdated and are substantially behind the modern, constantly updated features of Tryst. Escorts and Babes is only established in Australia. They have an option that allows a worker to bypass photo verification which potentially allows illegal or dangerous imagery to be published. They also do not verify profiles so fake listings can flourish. Their search features lack usability; you cannot search by price, body type or age. Further, they have no option to favourite workers from thumbnails, they do not share analytics and workers are locked out of their account if they are unable to pay membership fees. Tryst, by contrast, allows users to search workers by price, body type, tattoos, location and whether or not they offer online content. Workers have access to detailed analytics and all profiles are thoroughly verified. Tryst is super fast, well designed and responsive on mobile. Agencies and governments are not privy to any workers' information. Tryst is established in the US, Australia, New Zealand, Canada, Hong Kong and the UK.
Price
Perhaps the most egregious flaw of Escorts and Babe's user experience is the exorbitant price. Workers do not have the option to create a free profile of any kind and the features that are being paid for are a very small selection compared to their competitors. At the time of writing this article, workers can expect to pay anywhere from Tryst, again by contrast, offers a significant feature set. Tryst has some of the most affordable listings of any sex work advertising online. Tryst accepts payment for membership through bitcoin, credit card, prepaid cards and as gifts from clients.
---